Blog
We are blessed to help grow programs such as: the daily meals for children and for senior citizens, the school uniform project, the toy donations, nurse and medical care, the expectant mothers care, clothes and shoe donations, special Holiday meals/gatherings, frozen turkey donations, facility improvements, school sites improvements, school supplies, and grocery delivery for special-needs families in the community.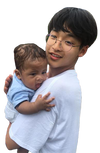 Every day this week has been busy, busy, busy. The last two days at the Manny Mota Foundation were no exception. It all started with a group of par...
Read the full article >>
Ephesians 6:7 says , "Serve wholeheartedly, as if you were serving the Lord, not people." On day 3 at the foundation we got to meet and connect wit...
Read the full article >>
The day started out normal, devotion then breakfast at 7:30, then on the bus by 9 AM. Instead of heading straight to the foundation, we went to a s...
Read the full article >>
It was a  hot day in the Dominican Republic was not only eye opening, but also full of fun and love. The day started when we left the hotel and got...
Read the full article >>
Written by Students, Evelyn Ponce & Brooke Bullis From waking up in a bed with a roof over your head, to eating dinner at a nice table with ama...
Read the full article >>
Update on Medical Clinic by Mr. Gaines For the 3rd consecutive year, we have been running a medical clinic, which has brought free care and medicin...
Read the full article >>
"Americanos! Americanos!" You walk off of the air-conditioned bus into the humid air and this is all you hear. Then you see children running toward...
Read the full article >>
What a fantastic day it was in Santo Domingo, as two busloads of excited and eager youngsters from the Manny Mota International Foundation in El Ta...
Read the full article >>
Manny and Margarita Mota, "abuelo and abuela" at it again. Today, they were blessed to have distributed toys to well-over 1,200 children in total. ...
Read the full article >>