Blog
We are blessed to help grow programs such as: the daily meals for children and for senior citizens, the school uniform project, the toy donations, nurse and medical care, the expectant mothers care, clothes and shoe donations, special Holiday meals/gatherings, frozen turkey donations, facility improvements, school sites improvements, school supplies, and grocery delivery for special-needs families in the community.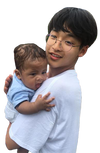 The 2014-2015 school year at Foothill Christian School in Glendora, CA marked the first that there would be two teams of youth and adults visiting ...
Read the full article >>
We are extremely thankful to the many hands and to the generous offerings that have allowed us to continue our growth in serving and expanding our ...
Read the full article >>
The Foothill Christian School group is set and ready to depart November 23, 2013 from LAX.  Stay tuned for photos/updates of this trip and please p...
Read the full article >>
This year we have started a regular lunch program for the senior citizens at the community of El Tamarindo. Smiling Seniors at the luncheon   Mar...
Read the full article >>
Motas Faces and a team from Foothill Christian School arrived today for a week long service project.It's such a privilege to be able to serve God w...
Read the full article >>
The countdown begins at FCS…I am extremely proud of the efforts by the administration, the teachers, and certainly looking forward to again, contin...
Read the full article >>
Throughout life I believe God presents us with opportunities, and it's our decision whether we take them on to change someone for the better. I thi...
Read the full article >>